Interview Candidate: Amanda J. Rockinson-Szapkiw
Brief Bio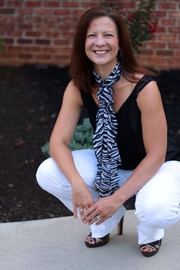 Dr. Rockinson-Szapkiw holds an Ed.D. in Distance Education, a M.A. in Counseling, and a B.S. in Education. In her over 10 years of higher education teaching experience, she has designed and taught residential, online, and blended courses at the undergraduate, graduate, and doctoral levels.
From 2009-2014, she has served as the chair for research and doctoral programs in the School of Education at Liberty University. While in this position, Dr. Rockinson-Szapkiw developed a collaborative workspace to facilitate doctoral mentorship, which was recognized by Microsoft via a case study and was awarded a Campus Technology Innovator Award.
During the 2015-2016 academic year, she served as Liberty University's QEP director, guiding the university's initiative to improve student learning through research, scholarship, and technology.
Prior to joining the faculty at Liberty University, she served as a faculty member at Old Dominion University, teaching human service and counseling courses. She assisted in developing the first online courses for the human service program.
Before entering higher education, Dr. Rockinson-Szapkiw served as a licensed professional counselor, focusing on children and adolescents struggling with social, emotional, behavioral, and sexual issues. While supervising at a treatment center, she often leveraged technology in counseling groups and sessions. She taught parenting skill classes focused on responsible use of technology.
Dr. Rockinson-Szapkiw has authored and co-authored more than two dozen peer-reviewed journal articles and presented and co-presented over 50 professional presentations. Her agenda has been focused on examining the influence of technology integration and online systems on learning, community, identity, and persistence.
Persistence, nested in the ecology of resilience, has also been a salient theme in her research. In this area, she has focused on understanding higher education experiences (beyond merely technology and online systems), namely the doctoral experience, to provide more equitable opportunities to those who are less likely to persist.
She recently published the co-edited book, Navigating the Doctoral Journey: A Handbook of Strategies for Success, with Dr. Spaulding. This book received the 2015 Finalist, AERA SIG 168 Outstanding Publication Award.
Dr. Rockinson-Szapkiw is also a board member for two international, humanitarian organizations, Freedom 4/24 and Global Mosaic International. And, in her free time, she enjoys "tinkering" on her computer creating websites and tutorials and exploring the great outdoors with her husband—hiking, biking, traveling and running. Some of her recent adventures include, petting Tigers in Thailand, watching lions in Africa, and paragliding off a mountain in New Zealand.  She currently lives with her husband and two cats in Central Virginia.
For more information about Dr. Rockinson-Szapkiw, visit AmandaSzapkiw.com or download her CV.
Presentation: In Search of a Distance Education, Doctoral Persistence Model
Abstract
With high attrition (50% to 70%) in distance education, doctoral programs, administrators and faculty need to identify ways to foster persistence. Thus, grounded in Tinto's Student Integration Model and Bean and Metzner's Student Attrition Model and drawing upon a synthesis of empirical literature on distance and doctoral education, a model for online, EdD persistence was developed and subsequently tested using a regression analysis. The results and corresponding implications are discussed.
PDF
Download the slides (in PDF format) from Dr. Amanda J. Rockinson-Szapkiw's presentation, In Search of a Distance Education, Doctoral Persistence Model.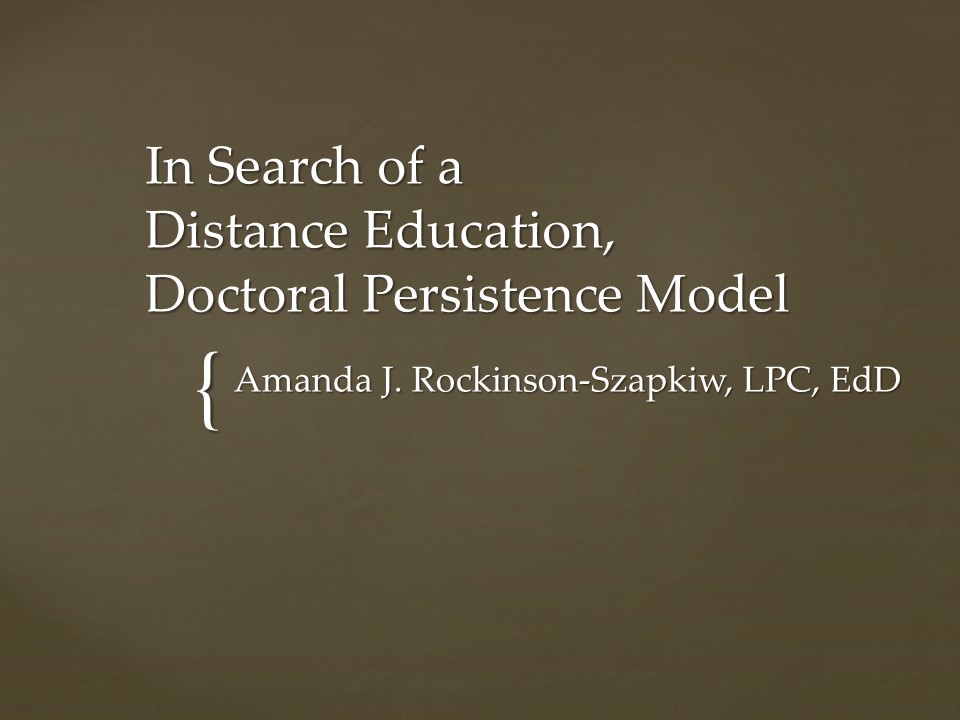 Artifacts
Teaching and "Show & Tell" Artifacts
Scholarship Artifacts
*Denotes co-authorship with current or former student
*Rockinson-Szapkiw, A.J. & Wendt, J. (2015). Technologies that assist in online group work: A comparison of synchronous and asynchronous computer mediated communication technologies on students' learning and community. Journal of Educational Multimedia and Hypermedia, 24(3), 263-279.
Rockinson-Szapkiw, A.J. & Spaulding, L.S. (Eds.) (2014). Navigating the doctoral journey: A handbook of strategies for success. Lanham, MD: Rowman & Littlefield.
*Rockinson-Szapkiw, A.J., Spaulding, L.S., Swezey, J.A., & Wicks, C. (2014). Poverty and persistence: A model for understanding individuals' pursuit and persistence in an online doctor of education program. International Journal of Doctoral Studies, 9, 181-190. Retrieved from http://ijds.org/Volume9/IJDSv9p181-203Rockinson0606.pdf
*Rockinson-Szapkiw, A.J, Wendt, J. & Lunde, R. M. (2013). The influence of textbook format on university students' self-regulated learning strategies, motivation, and text anxiety. American Distance Education 27(3), 179-188. doi:10.1080/08923647.2013.796230
Rockinson-Szapkiw, A. J. (2012). Should online doctoral instructors adopt audio feedback as an instructional strategy? Preliminary evidence. International Journal of Doctoral Studies, 7, 245-258.Retrieved from http://ijds.org/Volume7/IJDSv7p245-258Szapkiw0359.pdf